Vicki Shealy Named Employee of the Quarter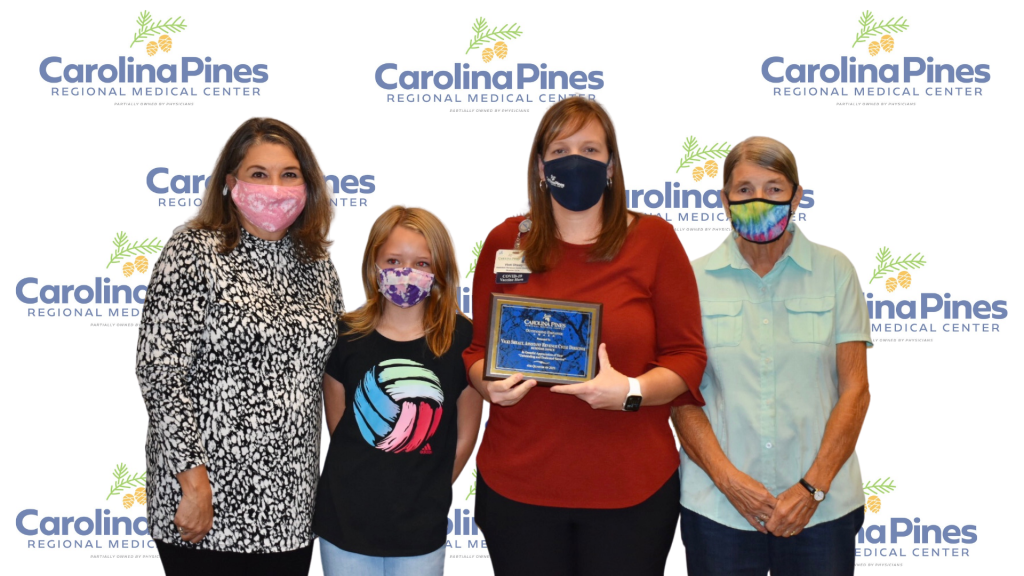 We are pleased to announce that the Outstanding Employee for the 4th Quarter of 2021 is Vicki Shealy of the Business Office.
Vicki resides in Hartsville with her wonderful husband and 2 children. She is devoted wife and mother. In her spare time, she loves fishing and riding on the boat with her family. She enjoys going to the beach, riding golf carts and shopping.
Vicki graduated from John Wesley Academy in 2000. She attended Florence-Darlington Technical College where she received a Certificate in Health Care Office Assistant.
Vicki began her career here at Carolina Pines Regional Medical Center in January of 2007 as an Admitting Clerk. She has worked in various positions within her department such as One Call Scheduler and Pre-Arrival Specialist. She has been in her current role since January of 2017.
Vicki exemplifies our "ENGAGE" values. She works daily to improve the EXCELLENCE IN QUALITY & SAFETY of the departments she is over and accepts all accountability of the same. She is dedicated to excellent service to all patients who comes through registration. She puts her co-workers first and she makes sure they have what they need to complete their tasks in a timely manner.
Vicki takes the INTIATIVE to work with ancillary departments regarding registration issues and resolving those issues. She takes the initiative to control every situation in a professional manner without showing favoritism.
Vicki always comes in each day with a GRATEFUL ATTITUDE towards her co-workers and to the patients. She focuses on all things that are positive in every employee and expresses her appreciation for what each person brings to the table.
Vicki is ACTIVELY INVOLVED and participates in the OP Testing & Patient Experience Team. She is involved in every aspect of the Business Office. She is a "hands on" person. She jumps into help with any project or issue that may occur. She steps in and performs the job duties of her fellow employees when they are absent, short-handed or need help as well as completing her own duties. She is a strong, amazing team leader.
Vicki is GENUINE. She has a sweet gentle spirit, humble character, and a caring heart. She is soft spoken yet leads with strength and authority. She understanding her role is to lead by example.
Vicki shares her knowledge freely by EMPOWERING others to excel in their job duties by including them in the decision-making process. She was instrumental during the recent downtime in assisting ancillary departments discover duplicate accounts, getting patients registered and ensured accurate billing. Her co-workers think she is just an amazing person and that they learn something new from her every day.
Read All Posts