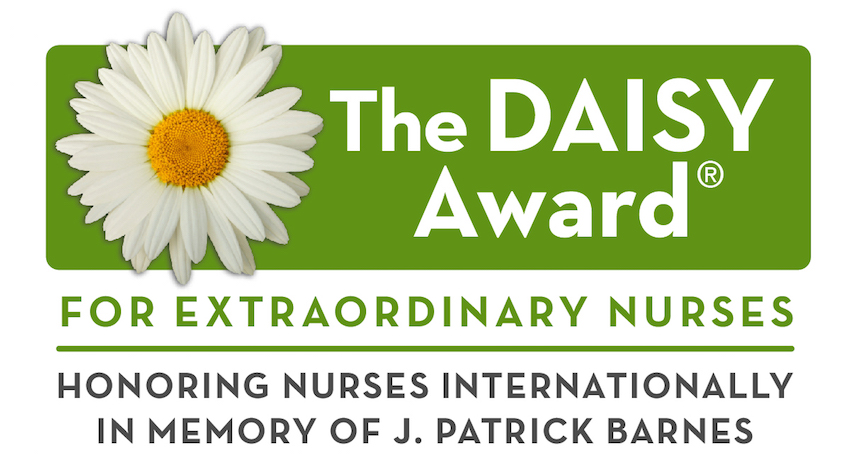 Help us celebrate the compassion and skill of our extraordinary nurses!
The DAISY Foundation was established in 2000 by the Barnes family in memory of their son, J. Patrick Barnes who died from complications of Idiopathic Thrombocytopenic Purpura (ITP) at the age of 33. It is dedicated to funding research to help fight diseases of the immune system and supporting ITP patients and their families. Having been touched by the remarkable care, Clinical skills, and compassion demonstrated by nurses during Patrick's illness, the Barnes family made it their mission to recognize exceptional nurses around the country.
What is the DAISY award?
This international program includes more than 1,000 hospitals across the globe.
It is given twice a year to an outstanding nurse from any of the different nursing regions.
The award is presented in the award recipient's unit.
Recipient will receive: framed certificate, DAISY Award signature lapel pin, hand-carved stone sculpture entitled A Healer's Touch, and a copy of the nomination letter.
The department of the recipient will receive cinnamon rolls, which were Patrick's favorite during his illness.
How to nominate an extraordinary nurse:
Patients, visitors, employees, or physicians may nominate a deserving nurse.
Fill out the online nomination form or paper nomination form located in each unit or waiting area.
Nomination is all year long. Selection process takes place quarterly by the DAISY Award Committee. Recipient will be notified by the department's manager.
What is the selection process for the award?
Only nominations with a patient story describing how the nurse went above and beyond will go through the final selection.
The selection process is blind. Each final nomination letter is coded for anonymity to prevent bias from the selection committee members.
Members of the DAISY Award Committee will read all the final nomination letters and grade them based on the presence of Central Carolina Hospital values and quality of the story.
For more information, visit daisyfoundation.org.