Tracy Robinson Named Employee of the Quarter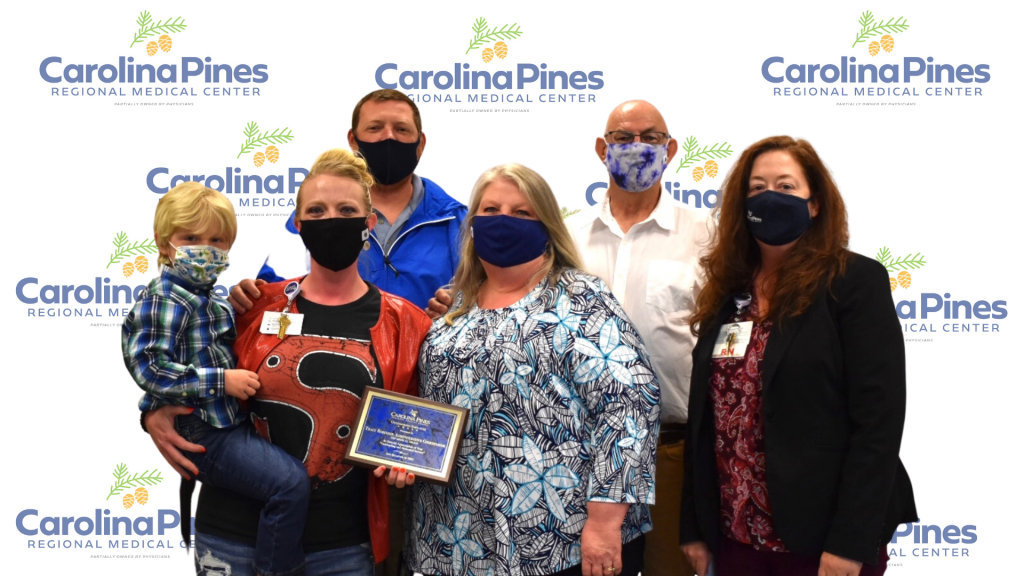 Tracy began her career at Carolina Pines Regional Medical Center in June of 2006 as a Unit Clerk in ICU and PCU. She transferred to Milestone, a contract company for physical therapy, where she worked as a Physical Therapy Technician. She returned as a Carolina Pines employee in April of 2011 where she continued to work in the physical therapy department. In December of 2017, she accepted an Office Manager Position with one of the busiest practices at Carolina Pines Medical Group. In May of 2020, she began a new position as the Administrative Coordinator for Carolina Pines Medical Group.
Tracy is a soft-spoken person who always has a smile on her face and her positivity is infectious. She is kind-hearted to her fellow co-workers, staff members and anyone else she may come in contact with.
Tracy took the initiative to make sure the Saturday COVID-19 vaccine clinics had staff scheduled appropriately, which is a large task in itself. She also worked at the pop-up vaccine clinics and worked to schedule many of these clinics as well. She never looked at the additional work from COVID-19 as a hindrance to her day, instead she has been grateful to help. She is very flexible and is willing to work when and wherever she is needed.
Tracy is always very appreciative and displays a thankful attitude. She is actively involved in hospital activities such as Trunk or Treat and The Heart Walk. She is also involved in the community with the Women's League of Hartsville.
Tracy is always upbeat and is a person you can depend on to be the same every day. She is authentic and can be depended on for high-quality work. She is a great person to work with daily and never judges when someone is having a bad day, staying true to herself even when others may try to bring her down. Tracy has shown empowerment during the past few months with the COVID-19 vaccine implementation. She has taken on her new tasks with confidence and has executed them with a great attitude.
We are proud to honor Tracy Robinson as the Employee of the 1st Quarter of 2021!
Read All Posts