Tanya Baker Named Manager of the Quarter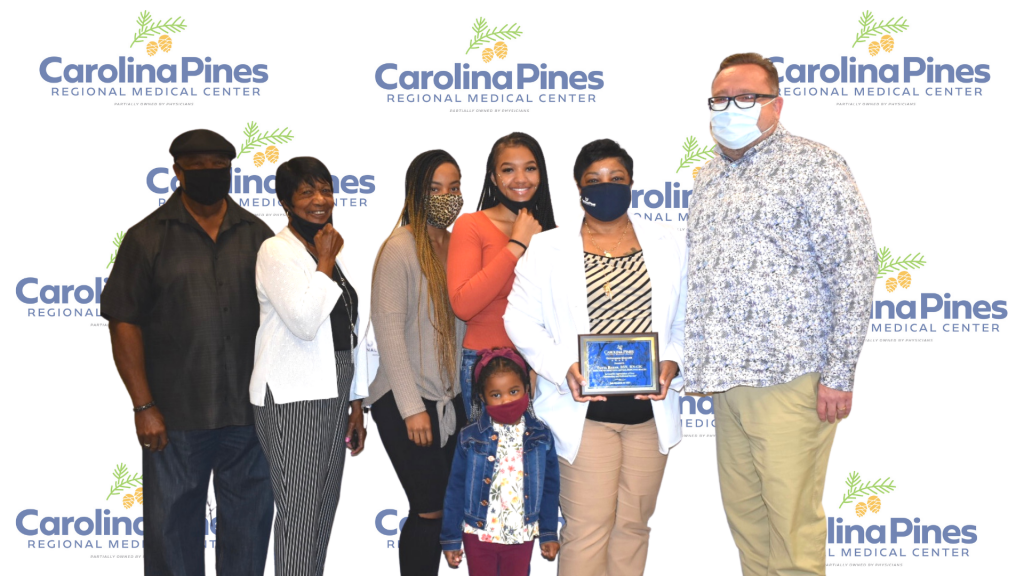 Tanya has been employed in healthcare since 1996. She graduated from the University of SC-Lancaster with an Associate Degree in Nursing. She continued her education and received her Bachelor of Science in Nursing from Western Governor's University. She has worked in various departments throughout her career at Byerly Hospital and Carolina Pines such as Med/Surg, Nursing Supervision and Case Management. She accepted her current position as Director in February 2012. Tanya has three children, and her hobbies include reading and shopping.
Tanya was nominated by several employees from our facility. When she took on her new role, she had big shoes to fill, however, Tanya has taken on the challenge and has excelled. She has worked non-stop since the pandemic began to assure that staff, physicians, and patients alike had what they needed. She has helped the leadership team and the hospital immensely by going above and beyond to stay up to date on safety issues concerning the pandemic.
Tanya has also taken the initiative to stay on top of the pandemic from day one working long hours to create policies and protocols for patients and employees. She has learned new programs on tracking COVID-19, and reports all needed information to our facility and DHEC on both the state and federal levels.
Tanya is actively involved with events at the hospital. She supports other department managers and is often seen out in the community and surrounding areas helping to educate others on various health topics. She is also very involved with her church.
Tanya truly cares for our employees and patients. She has devoted her career to our hospital and the needs of all staff, physicians, and patients. She has a big heart, but doesn't shy away from difficult conversations. She has been a mentor to several new nurses as they began their nursing career and is a true leader. She inspires all in that there is nothing that you cannot do if you set your mind and heart to it.
She empowers all of us to verify that the right things are being done for our patients whether it's handwashing, precautions, or competencies. She has been the go-to person for information and guidance during these uncertain times.
We are pleased to honor Tanya Baker, BSN, RN, CIC, Director of Infection Control and Employee Health as our Outstanding Manager for the 1st Quarter of 2021.
Read All Posts