Carolina Pines Regional Medical Center Implements Mobile App to Improve Human Connections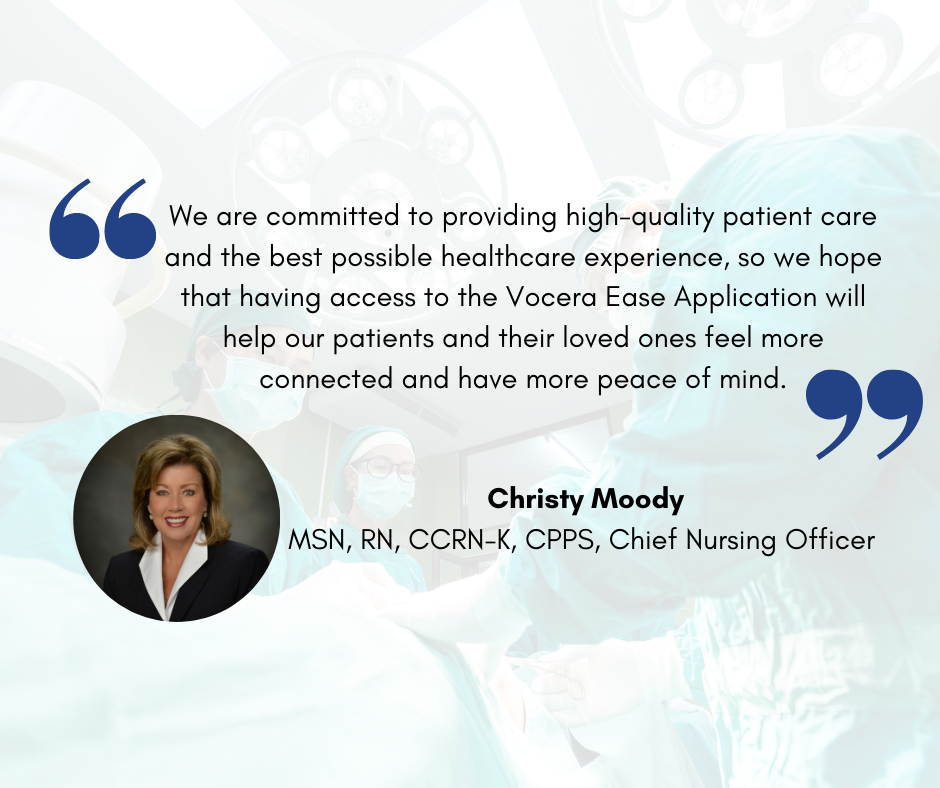 Carolina Pines Regional Medical Center announced today that it will deploy the Vocera Ease application to improve patient and family communication on Tuesday, September 21, 2021. The application enables nurses and other healthcare professionals to send secure texts, photos, and video updates to a patient's designated loved ones during a hospital stay or medical procedure. Family members and friends can respond to updates with emojis, giving immediate feedback and support to caregivers.
"Hospital stays can cause anxiety for patients and their family members, especially during a pandemic. Not only are patients sick, but they often can't be together with their family while in the hospital. Seeing a reassuring picture of a grandparent or a newborn family member provides needed comfort," said Christy Moody, MSN, RN, CCRN-K, CPPS, Chief Nursing Officer at Carolina Pines Regional Medical Center. "We are committed to providing high-quality patient care and the best possible healthcare experience, so we hope that having access to the Vocera Ease Application will help our patients and their loved ones feel more connected and have more peace of mind."
Our healthcare staff can send secure messages, pictures and videos to patients' friends and families – whether they are in the waiting room, at work, or across the country. Recipients of Vocera Ease updates are selected by the patient, and the app is free for their loved ones. The HIPAA-compliant, pictures and videos sent disappear 60 seconds after being viewed, and nothing is saved on their mobile devices.
Carolina Pines Regional Medical Center can also use Vocera Ease to track and improve the healthcare experience in real time. A customizable in-app survey offers a quick way for our staff to monitor patient and family satisfaction.
About Carolina Pines Regional Medical Center
Carolina Pines Regional Medical Center in Hartsville, SC is proud to be the only dual-accredited hospital in the Pee Dee Region, accredited by The Joint Commission and The Healthcare Facilities Accreditation Program (HFAP). CPRMC is an affiliate of MUSC Health and includes a 116-bed acute care hospital and an adjoining medical office building. From routine checkups to complex, state of the art surgery, Carolina Pines is the healthcare provider of choice in our service area, which includes the counties of Darlington, Chesterfield, Lee, and Marlboro. This hospital is partially owned by local physicians and LifePoint Health in Brentwood, Tennessee.
About Vocera
The mission of Vocera Communications, Inc. is to improve the lives of healthcare professionals, patients, and families. Founded in 2000, Vocera provides solutions that help protect and connect team members, simplify workflows, increase efficiency, enhance quality of care and safety, and humanize the healthcare experience. More than 2,300 facilities worldwide, including nearly 1,900 hospitals and healthcare facilities, have selected Vocera solutions to enable their workforce to communicate and collaborate with co-workers and engage with patients and families. Mobile workers can choose the right device for their role or task, including smartphones or one of the company's wearable communication devices, and use voice commands to easily reach people by name, role, or group. The hands-free Vocera Smartbadge was named to TIME's list of the 100 Best Inventions of 2020. The Vocera Platform can integrate with more than 150 clinical and operational systems, including electronic health records, nurse call systems, ventilators, physiological monitors, and more. In addition to healthcare, Vocera solutions are found in aged care facilities, veterinary hospitals, schools, luxury hotels, retail stores, power facilities, and more. Visit www.vocera.com to learn more, and follow @VoceraComm on Twitter.
Vocera® and the Vocera logo are trademarks of Vocera Communications, Inc. registered in the United States and other jurisdictions. All other trademarks appearing in this release are the property of their respective owners.
Read All Posts