Fallon Pammel Receives DAISY Award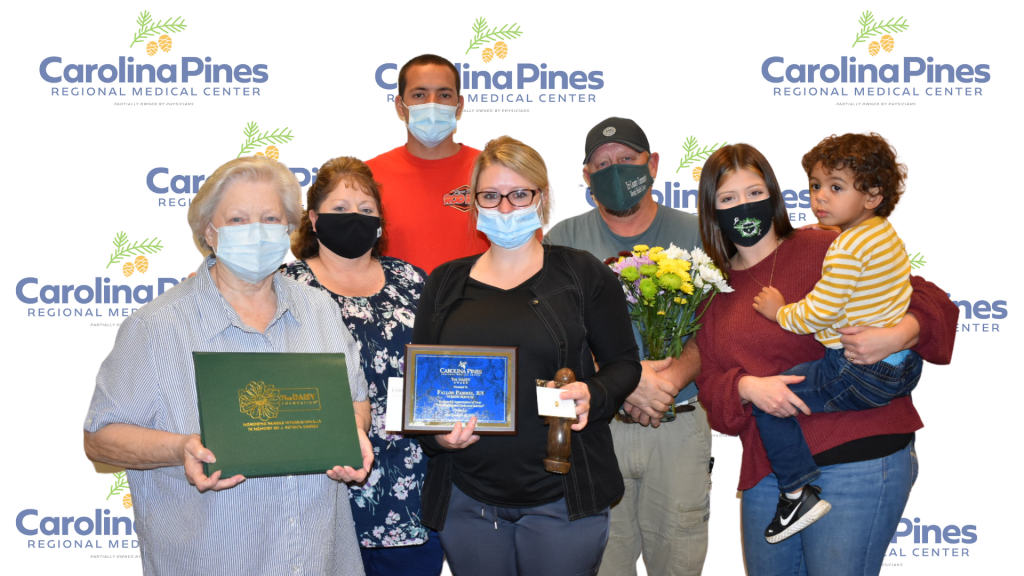 Fallon graduated with honors from Marlboro County High School in June of 2009. She continued her education at Northeastern Technical College where she graduated from the Licensed Practical Nursing Program and went on to obtain her Associates Degree in Nursing in December of 2013 and June of 2018 respectively.
Fallon began her medical career with Carolina Pines in May of 2018. She has 1 brother and 2 sisters. She and her husband reside in Cheraw with their fur baby named "Boozer." They are expecting their first child in April of 2022.
Fallon is a super compassionate nurse that truly cares about her patients. She is empathetic to the patient's situation and works to help ensure their needs are met. Fallon has been recognized by her peers on several occasions as being trustworthy and a great team member. Her work ethic in general is admirable. She truly loves the nursing profession, and this is expressed by her passion for patient care. Her compassion and eagerness to help people is contagious, as is her work ethic. She always keeps a smile on her face no matter how her day is going. Working on a medical-surgical unit can be a tiring job. The nurses in this area care for patients from the ages of 18 to 99+ and it requires a multitude of skills and abilities.
Fallon was nominated by a patient's family member. This family member noted that this nurse exudes the definition of the "PETALS" principles of Passion/Compassion, Empathy, Teamwork, Admirable Attributes, Love for the Nursing Profession and Selflessness. She always went above and beyond her duties in what was needed or asked for. Words could never express how much this patient's spouse appreciated the extraordinary concern, care, and performance this nurse gave to her husband while he was hospitalized. It was very obvious to them that this nurse truly cares for her patients. They stated that she had such a sweet nature and that her kindness was truly genuine. They loved her from the start and felt blessed to have her with them as she demonstrated all the qualities a nurse should be or strive to become. Fallon deserves The Daisy Award because she is an excellent nurse. She is very knowledgeable, dedicated, a dependable worker and a true team player.
We are pleased to honor Fallon Pammel of Acute Care Services as our Nurse for the 4th Quarter of 2021 and the winner of The Daisy Award.
Read All Posts