CPRMC awarded Advanced Primary Stroke Center Certification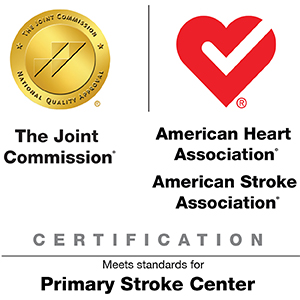 Carolina Pines Regional Medical Center has earned The Joint Commission's Gold Seal of Approval® and the American Heart Association's Heart-Check mark for Advanced Primary Stroke Certification.
Carolina Pines Regional Medical Center underwent a rigorous, onsite review to receive their Primary Stroke Center designation. During the visit, a team of Joint Commission reviewers evaluated compliance with related certification standards including Alteplase Administration by 60 minutes of patient arrival; community outreach, hospital staff education; collaboration with EMS; clinical collaboration with MUSC; ability to perform CT 24/7; protocols and care paths for stroke patients. Joint Commission standards are developed in consultation with health care experts and providers, measurement experts and patients. The reviewers also conducted onsite observations and interviews.
"Primary Stroke Certification recognizes health care organizations committed to fostering continuous quality improvement in patient safety and quality of care," says Mark Pelletier, RN, MS, chief operating officer, Accreditation and Certification Operations, and chief nursing executive, The Joint Commission. "We commend Carolina Pines Regional Medical Center for using certification to reduce variation in its clinical processes and to strengthen its program structure and management framework for stroke patients."
"We congratulate Carolina Pines Regional Medical Center for this outstanding achievement," says Nancy Brown, chief executive officer, the American Heart Association. "This certification reflects its commitment to providing the highest quality of care for stroke patients."
"Carolina Pines is proud to receive Advanced Primary Stroke Certification from The Joint Commission," says Brian Sponseller, MD, chief medical officer, Carolina Pines. "This certification provides us the opportunity to highlight the exceptional stroke care we provide to our community." "We hope to improve the statistics and mortality rate in Darlington County by educating the population on the importance of timely intervention when an individual is experiencing a stroke."
For more information, please visit TheJointCommission.com to learn about stroke symtomps visit https://www.cprmc.com/emergency-services/stroke-symptoms
Read All Posts