CPRMC Named to Becker's 2023 Listing of Great Community Hospitals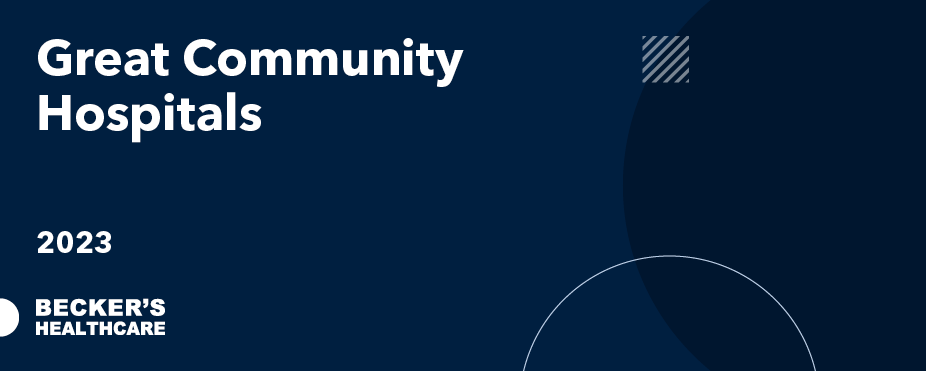 Carolina Pines Regional Medical Center (CPRMC) was one of 153 hospitals included in the 2023 Becker's Hospital Review (Becker's) listing of "Great Community Hospitals" released on Friday, July 28. Carolina Pines was one of only six hospitals from the state of South Carolina to make the list.
Hospitals recognized in the listing, per Becker's, are lauded for their "clinical excellence, compassionate care and economic impact on their communities." Becker's editorial team selected hospitals for inclusion based on several outside rankings and ratings organizations, including U.S. News & World Report, Healthgrades, CMS, The Leapfrog Group and The Chartis Center for Rural Health.
"It's quite an honor to make this listing and a nice validation of our hospital's efforts to advance the health and well-being of our patients and our community," said Bill Little, CEO of CPRMC. "Our team at Carolina Pines embraces the opportunity to provide highly skilled, compassionate care to those from the surrounding areas who come to us in need. This recognition ‒ much like our quality ratings, our growing list of accreditations, and our many innovative approaches to improve our services ‒ indicates that we are making the positive impact we want to make in our community."
Becker's described community hospitals as "vital pieces of the overall healthcare system, expanding care access to patients who might otherwise need to travel great distances or face other barriers to care."
CPRMC has a legacy of expanding quality care access to those it serves throughout Hartsville and surrounding areas. For example:
the hospital continues to use innovative approaches to ensure it is properly staffed, recently announcing its participation in Project BOLD, a program that provides student loan forgiveness to new employees who commit to work at CPRMC upon completing their education;
in that same vein, it also recently partnered with a local higher education institution, Coker University, to create a nursing school and internship program to function as a workforce development pipeline for the Pee Dee area and the state as a whole;
in addition, CPRMC recently added on-site dialysis service expansion to better serve an area with higher-than-normal rates of hypertension and diabetes;
the hospital is also part of the MUSC Health Network, including its telehealth program that enables healthcare providers across the Network to work together to achieve quality care in a more effective manner than can be achieved independently.
Even prior to this Becker's listing, the hospital's pursuit of providing the highest-quality care earned recognition. For instance, CPRMC achieved a Leapfrog Group "A" grade for patient safety in two consecutive Leapfrog surveys through Fall 2022 and received an "A" grade in Leapfrog's most recent survey in Spring 2023. In the past few weeks, the hospital's employed Medical Practice also attained recognition as a Patient-Centered Medical Home from the National Center for Quality Assurance as well as Gold Seal Approval® Certifications from The Joint Commission for its Heart Failure Program and its Total Knee and Hip Replacement Program.
Previously, CPRMC earned The Joint Commission's (TJC) Gold Seal of Approval® for the hospital and laboratory and achieved advanced certification as a Primary Stroke Center. It also recently received Chest Pain Center accreditation from the American College of Cardiology.
"We strive to be the best we can be and offer the right services at the right time to those who come through our doors," said Little. "We know we are part of a great community and consider it a privilege to have the opportunity to make a positive impact on our community, one patient at a time."
About Carolina Pines Regional Medical Center
As part of the ScionHealth network of hospitals, Carolina Pines Regional Medical Center (CPRMC) provides high-quality healthcare services to the people of several counties in northeastern South Carolina. Patients have come to rely on our experienced, skilled staff and physicians to provide them with the highest level of care and compassion. Through the facilities on our campus, including a 116-bed acute care hospital and an adjoining medical office building, we provide comprehensive services with two things in mind: the care and comfort of our patients. Learn more about CPRMC at www.cprmc.com.
Read All Posts