Coronavirus (COVID-19) and COVID-19 Vaccine Information
COVID-19 Vaccine Effort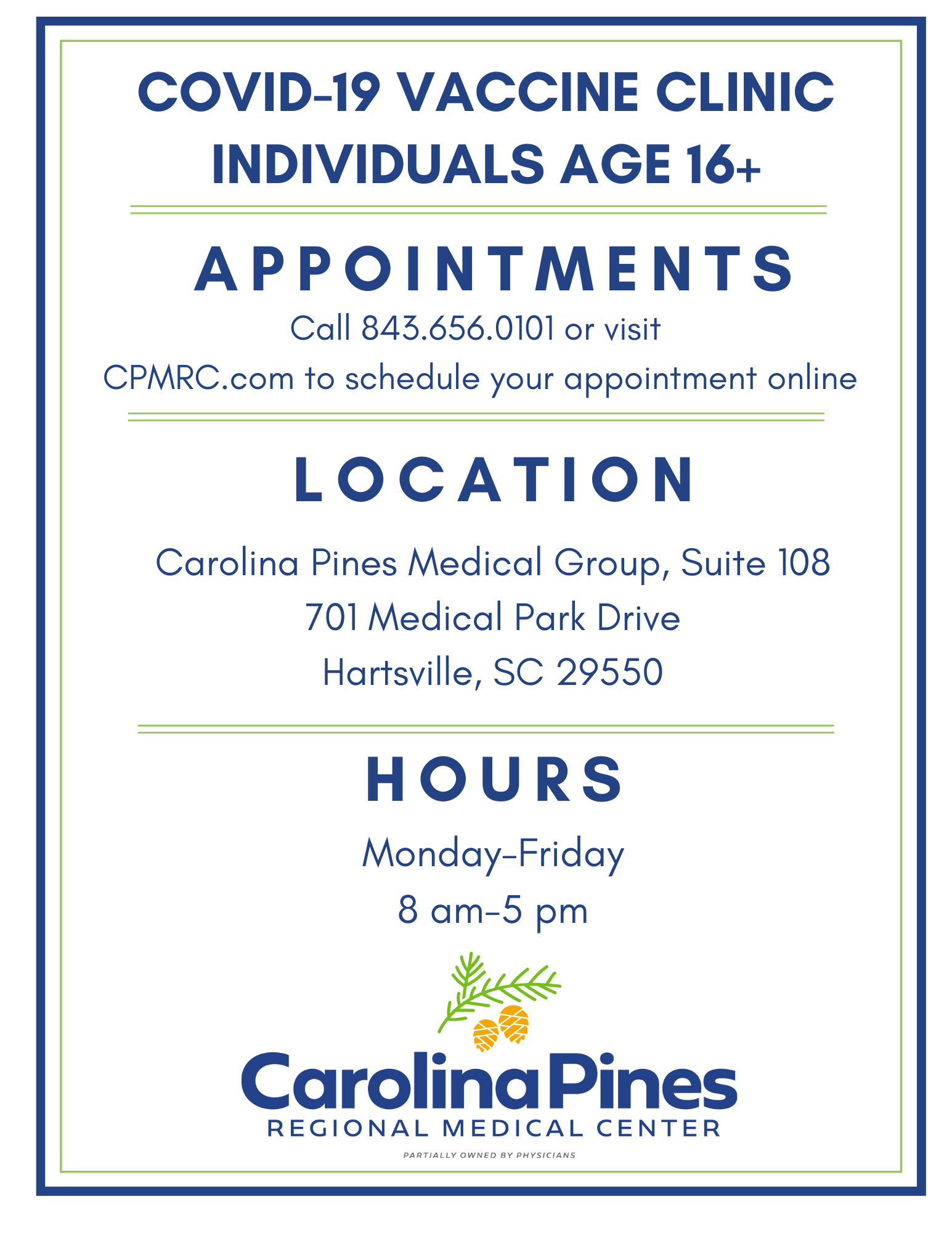 Please call 843.656.0101 or visit COVID-19 Vaccine Online Scheduling to schedule an appointment.
Quick Links
Centers for Disease Control and Prevention (www.cdc.gov)
Local/state health department – https://www.scdhec.gov
State hospital association – https://scha.org/
Visitor Restrictions
Here at Carolina Pines, we continue to closely monitor the prevalence of coronavirus (COVID-19) in our community and follow state and federal guidance as we adapt our operations to safely care for and support our patients.
EFFECTIVE WEDNESDAY, DECEMBER 9, 2020: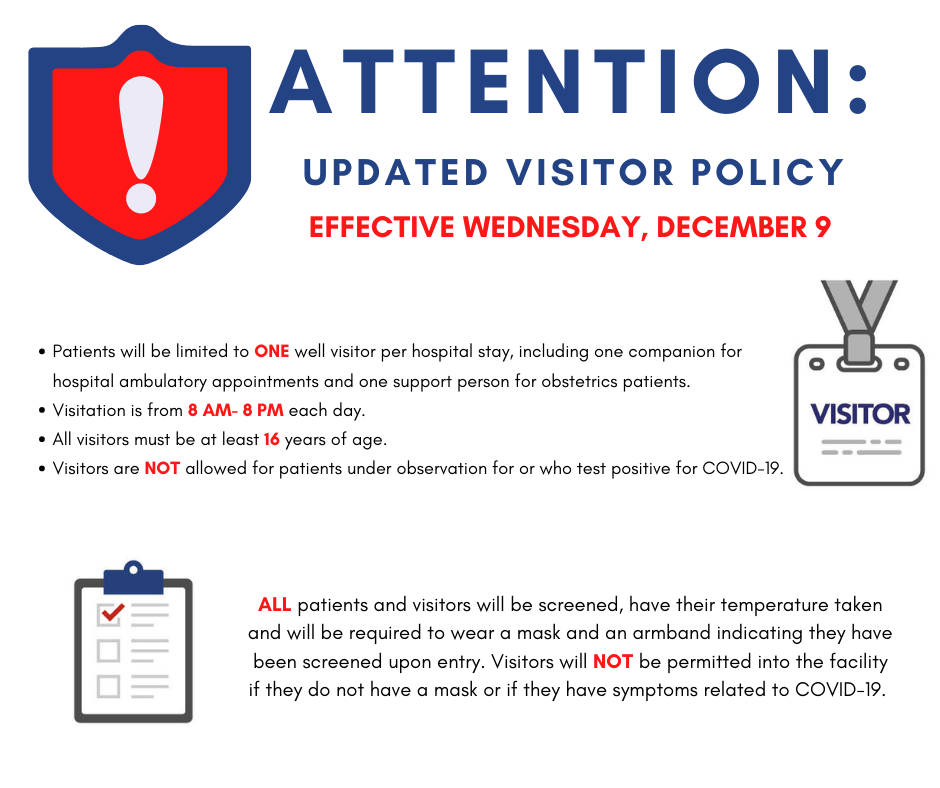 Patients will be limited to ONE well visitor PER HOSPITAL STAY, including one companion for hospital ambulatory appointments and one support person for obstetrics patients.
Visitation is from 8 AM - 8 PM each day.
All visitors must be at least 16 years of age.
Visitors are NOT allowed for patients under observation for or who test positive for COVID-19.
ALL patients and visitors will be screened, have their temperature taken and will be required to wear a mask and an armband indicating they have been screened upon entry.
Visitors will NOT be permitted into the facility if they do not have a mask or if they have symptoms related to COVID-19.
Signage is being posted around the facility notifying visitors and the community of these new restrictions and guidelines.
Thank you for your continued understanding and cooperation as we work to maintain a safe environment for our patients and team.
Once again, we want to assure our community that it is safe to come to Carolina Pines should you need care. We're here for you today, and always.
Universal Masking
Carolina Pines is taking every precaution to keep our patients and staff safe, and prevent the spread of COVID-19 in our facilities. For this reason, we are following the CDC recommendation that anyone who enters our facility must wear a face mask at all times.
Visitors are required to bring their own mask from home to help conserve hospital supplies for patients and staff.
Why wear a mask? Recent studies show that universal masking, in addition to practicing social distancing and proper hand hygiene, can help prevent the spread of infectious diseases like COVID-19, especially in individuals who may not know they are ill.
Please be smart and do your part. Wear a mask! We all have a responsibility to protect one another against the spread of COVID-19 and make our communities healthier.
For more information from the CDC on face coverings and how to make your own, visit https://www.cdc.gov/coronavirus/2019-ncov/prevent-getting-sick/how-to-make-cloth-face-covering.html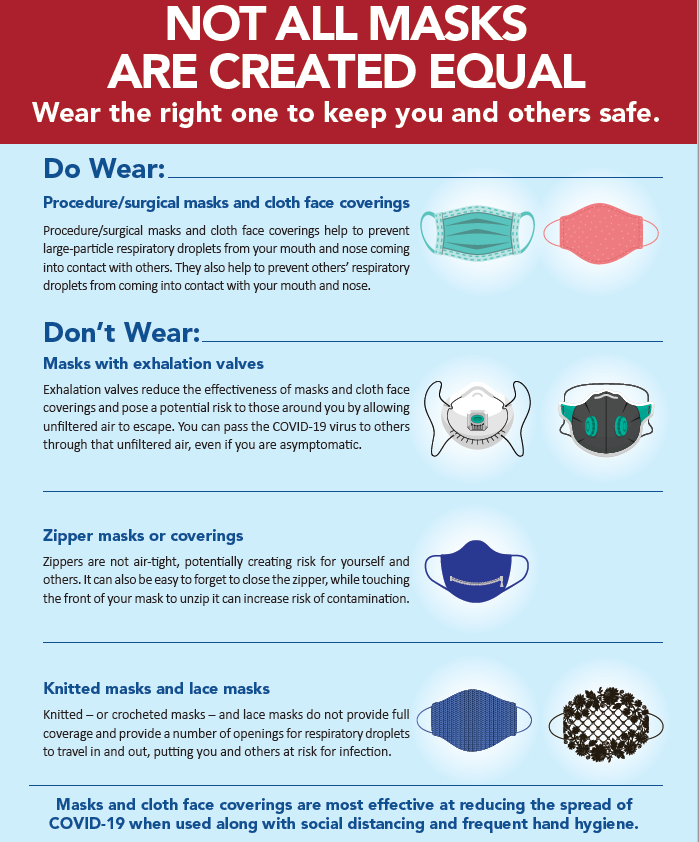 Coronavirus (COVID-19) – Frequently Asked Questions
Q: What are the symptoms of the coronavirus (COVID-19)?
A: Patients with COVID-19 have reportedly had mild to severe respiratory illness with symptoms of:
Fever greater than 100 degrees or chills
Cough
Shortness of breath/difficulty breathing
Fatigue
Muscle or body aches
Headache
New loss of taste or smell
Sore throat
Congestion or runny nose
Nausea or vomiting
Diarrhea
Q: Are there different strains of coronavirus?
A: Yes, there are seven different coronaviruses known to infect humans.
Four of the seven coronaviruses are very common, more mild (similar to the common cold), and most people will be infected with at least one of them in their lifetime. Healthcare providers test for these common coronaviruses routinely, and no public health measures are needed to address these common coronaviruses. People infected with the common coronaviruses can avoid passing them to others by covering their coughs and sneezes, cleaning their hands frequently and containing germs by staying home when ill.
Three of the seven coronaviruses are rare and can cause more severe illness; this includes COVID-19. Testing for this virus can only be done at CDC; healthcare providers are not able to test for this virus independent of the public health department.
Q: What is the risk of exposure to the coronavirus (COVID-19)?
A: The risk to the general public remains low at this time. Right now, influenza is a much more significant threat to Americans. Protect yourself from the flu:
It's not too late to get your flu vaccine.
If you are sick, stay home or seek appropriate medical care.
Cover coughs and sneezes.
Wash your hands frequently with soap and water.
Q: What should I do if I traveled to China and feel sick with fever, cough or difficulty breathing?
A: Seek medical care right away. Before you go to a healthcare office, call ahead and tell them about your travel and your symptoms.
Q: Is there a vaccine?
A: There is currently no vaccine to protect against COVID-19. The best way to prevent infection is to avoid being exposed to this virus.
Q: Is there a treatment?
A: There is no specific antiviral treatment for COVID-19, but people with this virus can seek medical care to help relieve symptoms.
Q: How can I help protect myself?
A: The best way to prevent infection is to avoid being exposed to this virus. There are simple, everyday actions you can take to help prevent spreading germs that cause respiratory viruses. These include:
Avoid close contact with people who are sick. Close contact is defined as being within approximately 6 feet, or within the room or care area, of a COVID-19 case for a prolonged period of time while not wearing recommended personal protective equipment (PPE). Close contact can also include caring for, living with, visiting or sharing a healthcare waiting area or room with a COVID-19 case. Having direct contact with infectious secretions of a COVID-19 case (such as being coughed on) while not wearing recommended PPE.
Avoid touching your eyes, nose and mouth with unwashed hands.
Wash your hands often with soap and water for at least 20 seconds. Use an alcohol-based hand sanitizer that contains at least 60% alcohol if soap and water are not available.
If you are sick, to keep from spreading respiratory illness to others, you should:
Stay home when you are sick.
Cover your cough or sneeze with a tissue, then throw the tissue in the trash.
Clean and disinfect frequently touched objects and surfaces.