Carolina Pines Regional Medical Center Names 2021 Mercy Award Winner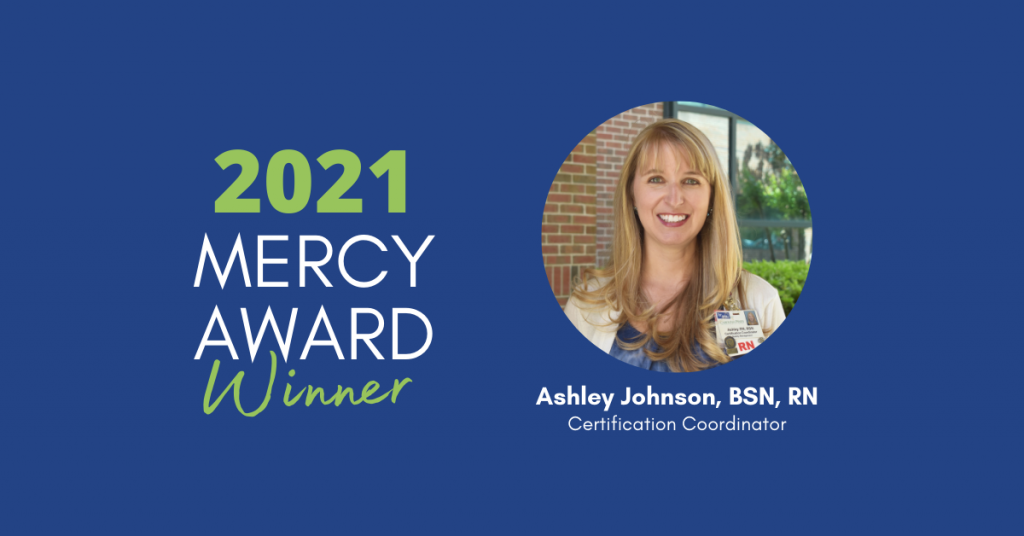 Ashley Johnson recognized for demonstrating compassion and unwavering commitment to helping others
Carolina Pines Regional Medical Center recently announced that Ashley Johnson, BSN, RN, Certification Coordinator has been recognized as the hospital's 2021 Mercy Award winner. The Mercy Award recognizes one employee from each of LifePoint Health's hospitals who profoundly touches the lives of others and best represents the spirit and values on which the company was founded.
The Mercy Award is an annual recognition program established in 2002 to honor the life and contributions of Scott Mercy, LifePoint's founding chairman and chief executive officer. The award is considered the highest honor a LifePoint employee can receive.
"At Carolina Pines, we share LifePoint's commitment to making communities healthier, and we recognize this is supported by the good work and service of our employees on and off the job," said Bill Little, CEO of Carolina Pines. "We are extremely proud to recognize Ashley for her efforts on behalf of our patients and our community. She goes above and beyond each and every day to ensure that every person she encounters receives the highest level of care and compassion."
According to her colleagues, Ashley is always willing to go above and beyond to ensure that patients experiencing a stroke, or symptoms of a stroke, receive exceptional care. Ashley has been, and continues to be, a positive influence and liaison between the staff and physicians. She was responsible for building the Stroke Program at Carolina Pines from the ground up and has led the way in the organization becoming certified by the Joint Commission as an Advanced Primary Stroke Center. The training and protocols that Ashley has implemented have elevated stroke awareness among all employees, as well as patients and visitors, which helps advance our Mission of Making Communities Healthier®.
This year, under Ashley's direction, Carolina Pines Regional Medical Center was awarded the following prestigious recognitions from the American Heart Association: 2020 Get With the Guidelines Stroke Bronze; Silver PLUS; Target Stroke Honor Roll and Target Type 2 Diabetes Honor Roll. In December, Ashley was invited by Genetech to the National Field Meeting to share a stroke success story from a patient treated at Carolina Pines. Some of the comments that were shared about Ashley from the participants included "thank you so much for your passion for your patients", another participant said, "you are a tremendous advocate for your patient community and have been able to champion resources within your hospital to build a great program" and lastly one participant shared "you are making a difference and did a fantastic job conveying your stroke process."
Ashley is very involved in promoting stroke awareness to the community. She participates in educating civic clubs about stroke awareness as well as at the downtown market on Saturdays. She is a positive influence in the community and her passion and commitment to saving lives is evident. During the COVID-19 pandemic, Ashley worked 12 weeks in ICU. She also volunteered to fill in as house supervisor when there was a need and worked as an injector during Carolina Pines' mass COVID-19 vaccination clinics. I am thankful for Ashley's commitment to Carolina Pines and to our community. She is the definition of a team player and continues to make a difference in our community daily.
Each hospital winner, including Ashley, will be considered for LifePoint's 2021 companywide Mercy Award. The companywide winner will be announced this summer and honored during a ceremony in Nashville, Tenn., in August, to which Ashley and all hospital winners are invited to attend.
Read All Posts