Laronda Joyner Wins Employee of the Quarter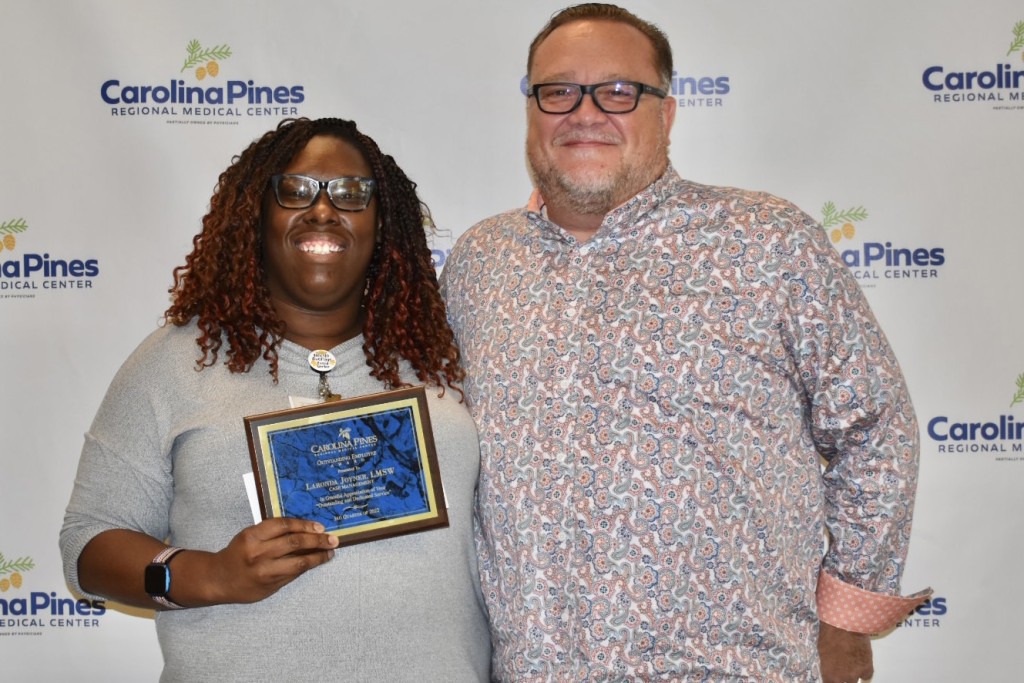 Laronda resides in Hartsville with her husband and son. In her spare time, she enjoys reading. She is a quiet person who arrives to work with a smile on her face and is quick to make someone smile if she knows they are feeling down. She is always willing and eager to help in any situation. Laronda shows excellence in quality and safety by always being dependable to patients and staff.
Laronda shows initiative by taking on tasks that she is not assigned, to assist patients and her co-workers. She is very bright, learns quickly and is willing to go above and beyond to get the job done no matter what arises. She is truly a team player who is flexible and always has a positive attitude. She truly cares about her department and her job, and it shows in her work ethic.
Laronda is actively involved in cases where staff have identified a social concern. She can diffuse situations well and talk through issues with patients and families in a way that they are able to understand. She wants what is best for the patient and/or individual and works very hard to provide resources to others when needed. She is very knowledgeable in her field and is very good at sharing her knowledge with staff and patients to empower them to seek the resources that will assist them with their needs. She assists with resources for those who need community assistance as well as psychiatric placement.
Laronda graduated from Hartsville High School in June of 2008. She obtained a Bachelor of Social Work from the University of North Carolina-Greensboro in Greensboro, NC in May of 2016. She continued her education at Walden University in Minneapolis, MS where she received her Master of Social Work in February of 2020. She is currently studying for her LISW Licensure. Laronda worked as a Child Protective Services Assessment Worker with the Department of Social Services before she began her medical career at Carolina Pines Regional Medical Center as a Social Worker in October of 2020.
Laronda is an asset to Carolina Pines and she truly has the heart of a social worker!
Read All Posts